Corporate Social Responsibility
SKC shares to add more to life When you share your warm heart with others voluntarily, sharing (÷) becomes an addition (+) of happiness.
In understanding of the value of sharing, we want to be a stepping stone for healthy life and learning to our neighbors and a fence which keeps them safe and secure.
Local Community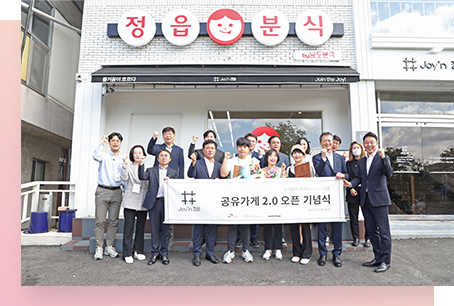 Joy'n Jeongeup Project

SK nexilis has rolled out the 'Joy'n Jeongeup Project' in partnership with Jeongeup City, Jeonlabukdo Province to build a foundation for sharing prosperity with the local community, operating Shared Shops designed to serve as distribution outlets for young entrepreneurs and revitalize the local economy.
Shared Shops 1 and 2 were launched near the traditional Jeongeup market in July, 2021, with a 'Shared Office' being Shared Shop 3 opened in April, 2022.
Joy'n Jeongeup Project is estimated to have logged about 50 million won in revenue and created seven additional jobs, stimulating the local economy and delivering social/economic values in various aspects.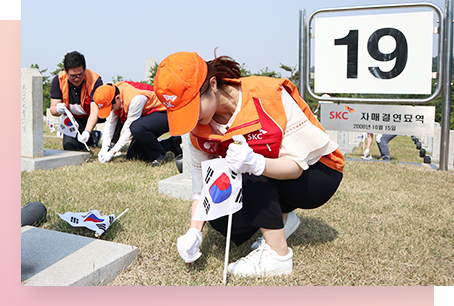 Volunteer activities at Seoul National Cemetery

In sisterhood relationship with Seoul National Cemetery, SKC has provided volunteer services such as tombstone cleaning, flower changing and sticking national flag since 2008. SKC employees have provided volunteer services on Memorial Day and engea Armed Forces Day every year, paying tribute to the martyrs and the spirits of the fallen patriots.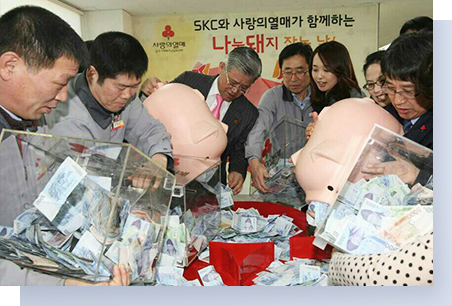 Change donation

The SKC workers have voluntarily donated a small change from their monthly salaries to the poor neighbors since 2013.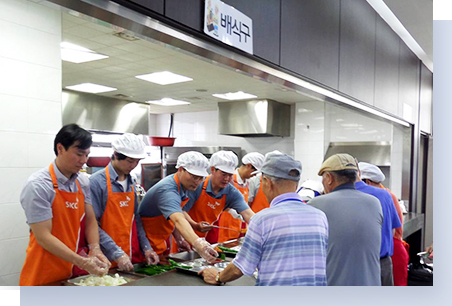 SK Cheongsol Senior Welfare Center

The workers from the SKC Film Division, Suwon Plant have visited SK Cheongsol Senior Welfare Center and provided volunteer meal services. They have also accompanied the inmates.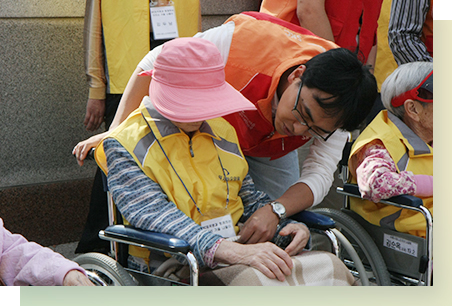 Facility maintenance services at Suwon Municipal Senior Care Center

The workers from SKC Film Production Division, Suwon Plant have visited Suwon Municipal Senior Care Center and provided facility maintenance services. The volunteers led by engineers have checked and repaired cooling & heating systems, ventilation fans in the kitchen and wheelchairs and cleaned environments.
Scholarships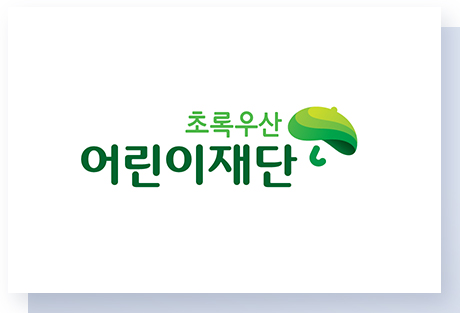 Matching Fund with Children's Foundation

In cooperation with Children's Foundation, SKC has operated Matching Fund which sponsors children and youth from the disadvantaged families every month since 2006. Once the SKC employee gives a certain amount, SKC donates the same amount. The funds raised through this charity program are used to help such children and adolescents realize their dream.
Resource Circulation & Environmental Protection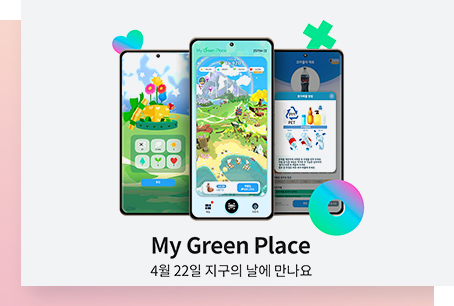 Eco-friendly Plastic Platform 'My Green Place' Launched

SKC launched 'My Green Place', an eco-friendly plastic platform, in April, 2022 to address challenges of plastic wastes and foster eco-friendly culture.
Users of My Green Place can find data on packaging materials and how to recycle them simply by reading barcodes on everyday plastic products on the platform. My Green Place was honored with the Award of the Korean Minister of Environment in recognition of its contribution to natural environment and completeness as a digital platform.
SKC organized a 'tree-planting campaign' engaged by 300 My Green Place users who then planted 300 trees including paulownia in Kazakhstan, Central Asia. The trees are estimated to absorb about 127 tons of CO2 over 30 years.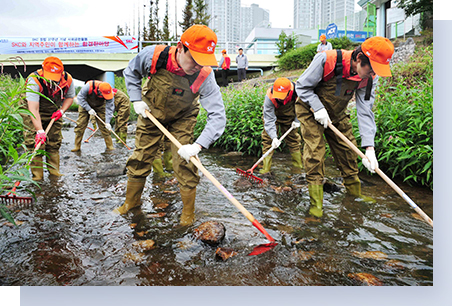 'Adopt-a-mountain-and-a-river movement'

SKC has continuously cleaned environments around its business site. For example, Suwon Plant has protected Gwanggyosan Mountain and Seohocheon Stream. In addition, the workers from Ulsan Plant have taken the initiative in preserving Solmaru-gil Trail and the Taehwagang River.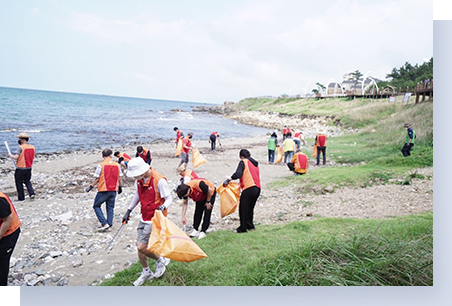 Beachcombing in Ganjeolgot Cape

SK pucore people engaged in beachcombing activities to clean Ganjeolot beach frequented by many summer vacationers in July, 2022.
*What is 'Beachcombing'? It is the compound word of Beach + Combing, referring to environmental protection campaign to clean littered beaches.