Corporate Social Responsibility
SKC shares to add more to life When you share your warm heart with others voluntarily, sharing (÷) becomes an addition (+) of happiness.
In understanding of the value of sharing, we want to be a stepping stone for healthy life and learning to our neighbors and a fence which keeps them safe and secure.
Businesses
'Happy Window' built by SKC-Habitat
In partnership with Habitat for Humanity Korea, SKC has donated window films to the Build & Repair Habitat House 2017.
The SKC window films provided to low-income households, multicultural families, the elderly living alone and child welfare facilities block ultraviolet rays 100% and infrared rays 76%. In summer, they block hot summer heat and reduce cooling expenses. In winter, on the contrary, they keep warm air and reduce heating costs. SKC window films ensure that our neighbors live in pleasant and refreshing environments.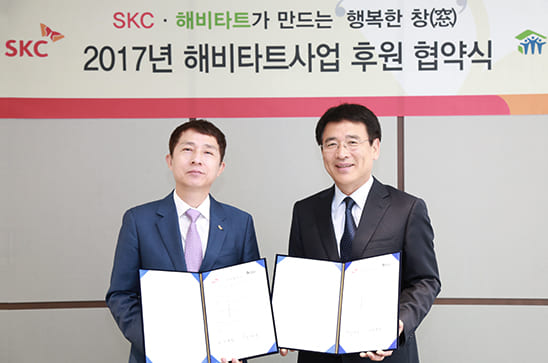 Volunteer Services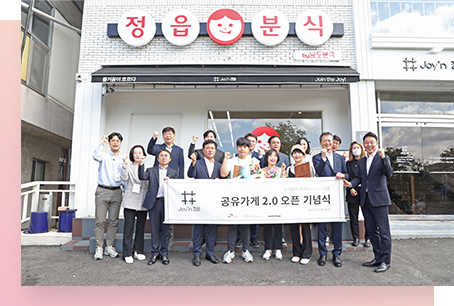 SK Cheongsol Senior Welfare Center

The workers from the SKC Film Division, Suwon Plant have visited SK Cheongsol Senior Welfare Center and provided volunteer meal services. They have also accompanied the inmates.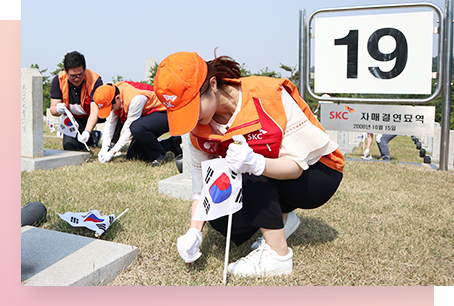 Volunteer activities at Seoul National Cemetery

In sisterhood relationship with Seoul National Cemetery, SKC has provided volunteer services such as tombstone cleaning, flower changing and sticking national flag since 2008. SKC employees have provided volunteer services on Memorial Day and Korea Armed Forces Day every year, paying tribute to the martyrs and the spirits of the fallen patriots.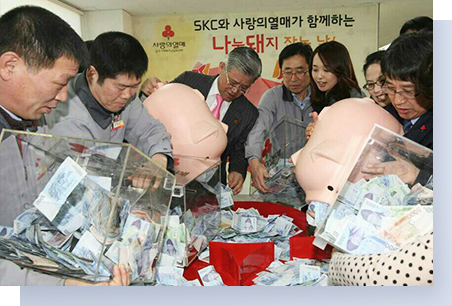 Facility maintenance services at Suwon Municipal Senior Care Center

The workers from SKC Film Production Division, Suwon Plant have visited Suwon Municipal Senior Care Center and provided facility maintenance services. The volunteers led by engineers have checked and repaired cooling & heating systems, ventilation fans in the kitchen and wheelchairs and cleaned environments.
Social Welfare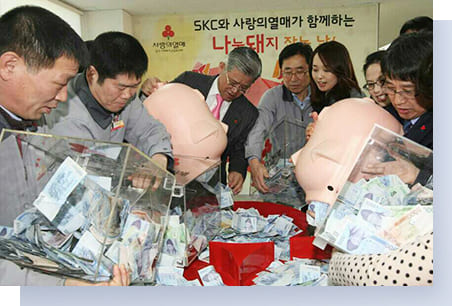 Change donation

The SKC workers have voluntarily donated a small change from their monthly salaries to the poor neighbors since 2013.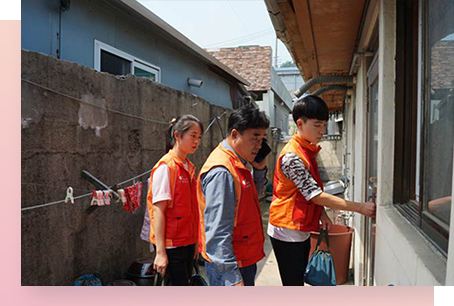 Heart-warming Lunchbox Delivery

The workers from the SKC Chemical Production Division, Ulsan Plant have delivered a free lunchbox to poor seniors living along in Ulsan every Thursday since 2005. This volunteer service has lasted for 12 years. They have visited the poor neighbors and checked if they are okay and reported the problems they have found to local community centers.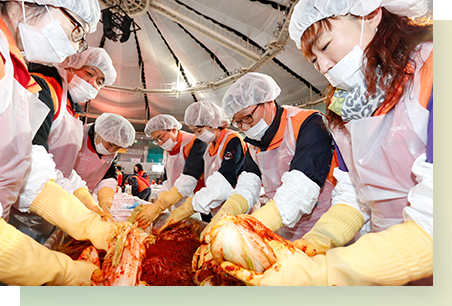 'Share Happiness Gimjang (preparation and preservation of kimchi)' and 'Heartwarming Briquette Delivery'

SKC has performed 'Share Happiness Gimjang' and 'Heartwarming Briquette Delivery' every year. The SKC employees have shared love and happiness with poor neighbors by making kimchi and delivery charity briquettes.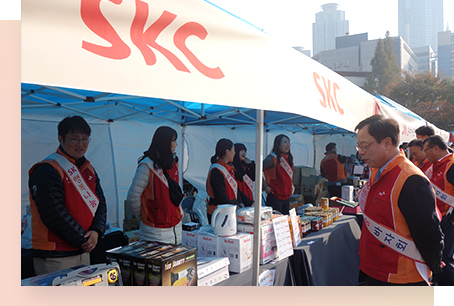 'Share Happiness Yard Sale'

As a part of 'SK's Share Happiness Season', SKC has held 'Share Happiness Bazaar'. The funds raised through the bazaar are used to help the disadvantaged people in winter.
Scholarships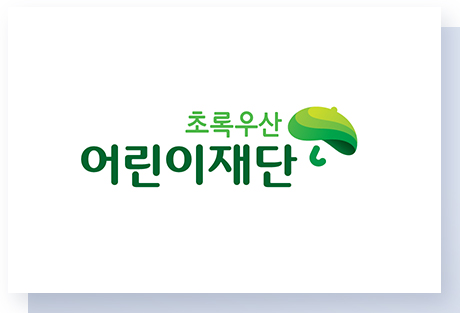 Matching Fund with Children's Foundation

In cooperation with Children's Foundation, SKC has operated Matching Fund which sponsors children and youth from the disadvantaged families every month since 2006. Once the SKC employee gives a certain amount, SKC donates the same amount. The funds raised through this charity program are used to help such children and adolescents realize their dream.
Environmental Protection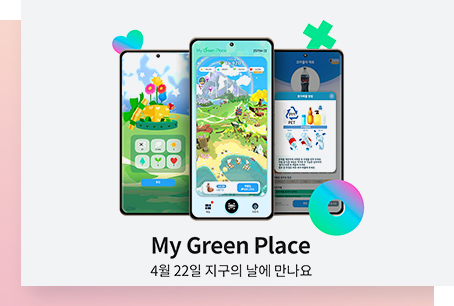 'Adopt-a-mountain-and-a-river movement'

SKC has continuously cleaned environments around its business site. For example, Suwon Plant has protected Gwanggyosan Mountain and Seohocheon Stream while Jincheon Plant has kept Mihocheon Stream and Nongdari Bridge clean. In addition, the workers from Ulsan Plant have taken the initiative in preserving Solmaru-gil Trail and the Taehwagang River.