Since our establishment in 1976, SKC has been the first to develope and produce countless Korea's first products in film, chemical, and material sectors. In this way we have contributed to the Korea's industrial development and emerged as a global manufacturer.

Over the past 40 years, we have come to be regarded as a synonym for dedicated R&D, and our name is now associated with many "firsts" in the development and production of outstanding technologies not only in Korea but also in the world.

SKC's technologies change the world!

While SKC have led the country's material industry for over 4 decades in film and chemical sectors, we are transforming the company into a high-value added materials provider focused on Rechargeable battery, semiconductor, and eco-friendly materials.

SKC, founded in 1976, has continued to break records in Korea and globally by continuous challenge and innovation. SKC became the first company in Korea to develop PET(Polyester) film in 1977 and the first company in the world to commercialize biodegradble film in 2008. In 1991, SKC was the first company to commercialize PO(Propylene Oxide) in Korea, and in 2008, was globally the first to successfully commercialize an eco-friendly HPPO technology. As a leading company of the localization of semiconductor materials, SKC is now leading the localization of hi-end Blank Mask after its development of CMP(Chemical Mechanical Polishing) Pad.

In 2020, the company is making a leap to become a global specialist in advanced materials by BM(Business Model) Innovation. In May 2020, the company strengthened its Rechargeable battery materials business by establishing SK nexilis, a world-class copper foil manufacturer producing key material for electric car batteries. In February, the chemical business sector of SKC, one of the company's main business was spilt off to establish a joint-venture SK picglobal with PIC(Petrochemical Industries Company) of Kuwait, thereby providing a basis for global advancement.

In oder to enhance its high-added value materials business in the Rechargeable battery, semiconductor, and eco-friendly sectors, SKC's BM Innovation will continue. Until the day it becomes a 'Global ESG material solutions company' that provides new value to clients through the highest technological standards, SKC will continue to strive toward innovation.
Contact Us
Address

Block B, The K Twin Towers, 50 Jongro-1-gil, Jongro-gu, Seoul, South Korea, SK
TEL : 02-3787-1234
How to get to us

The 6th floor, the "B" Building of the K Twin Tower, about 500 m from Exit 6, Gyeongbokgung Station, Seoul Subway Line 3; about 250 m from Exit 3, Gwanghwamun Station, Seoul Subway Line 5; About 900 m from Exit 1 or 2, Jonggak Station, Seoul Subway Line 1
Global network
The work of leading others in the market and enhancing our brand value is the result of our employees' dedication and earnestness. We pursue innovation in product quality and technology development, and are strengthening our marketing capability via diversification in the materials sectors based on our sheer technological prowess. We create innovative products by keeping pace with changes in the market as well as changes among our customers and the business environment.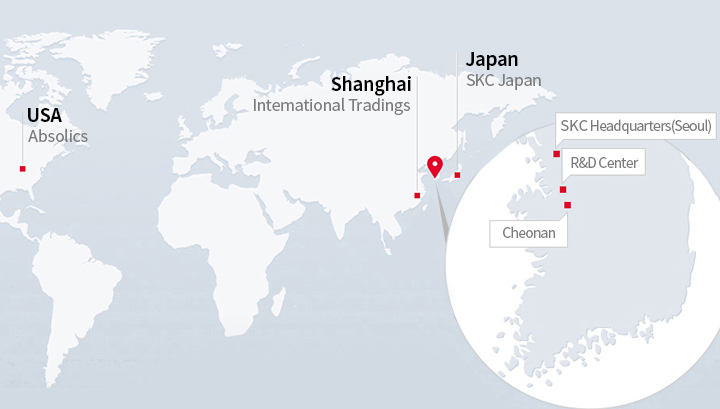 Domestic
Workplace
Address
SKC Headquarters
B-dong, THE-K Twin Towers (Junghak-dong), 50, Jungno 1-gil, Jongno-gu, Seoul
TEL : 02-3787-1234
Cheonan
112, Seonggeo-gil, Seonggeo-eup, Seobuk-gu, Cheonan-si, Chungcheongnam-do
TEL : 041-550-9566
R&D Center
102, Jeongja-ro, Jangan-gu, Suwon-si, Gyeonggi-do
TEL : 031-240-0114
Overseas
Workplace
Address
Absolics
SKC Drive, Covington, GA 30014, USA TEL : 00700-82-70-7439-1801
SKC (Shanghai)
International Tradings, China (branch)
SK Tower 61F, No.149, Youcheng Road, Pudong New Area, Shanghai
TEL : +86-21-6081-9430
SKC Japan (branch)
CJ Building 8FL, 2-7-4, Nishi-Shinbashi, Minato-ku, Tokyo 105-0003, Japan
TEL : 00700-81-3-3591-6325