Ethical management system
SKC's ethical management – Definition and our core values
'Ethical Management' refers to business administration, which takes ethical responsibility, as well as economic and legal responsibilities, and pursues the observance of corporate ethics as the principles of conduct to carry our for our sustainable development.
We take the SKMS as the basis of corporate governance and create values for the related parties, such as clients and shareholders, to play key roles in the betterment of society and economic development and make a contribution to the happiness of humankind.
Customers

Customer satisfaction and trust

Environment

Eco-friendly management

Community

Creating a happy community

Members

Ethical management mindset

Business partners

Ecosystem featuring fairness/accompanied growth

Shareholders

Enhancement of corporate value
Ethical management framework (3C)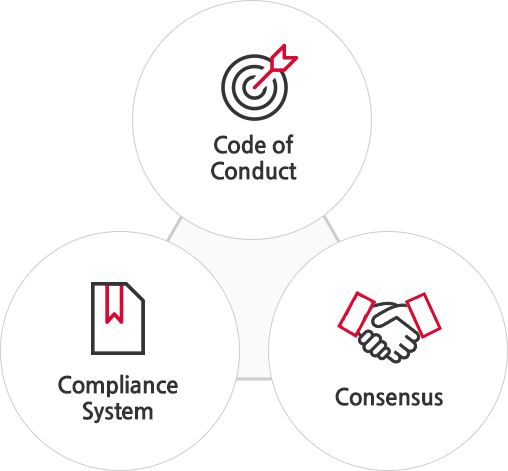 Code of Conduct

Uppermost regulations specified and codified aimed to put ethics/compliance-related ideas into practice, by setting ethical norms and action guidelines
Compliance system

Organization and operating system aimed to put ethics/compliance-related ideas into practice
Tip-off/consulting, periodic compliance-related inspection, through ethical management organizations
Consensus formation

Putting ethical management–related objectives into practice through education for employees, CEO messages, and relevant PR
Dissemination of the culture of fair trade, through the operation of programs concerning ethical management system to business partners
Ethical management activities
At SKC, we strive to foster a corporate culture that focuses on transparency and fairness based on norms for ethical management and relevant action guidelines.
SKC's ethical management organizations strive to upgrade the company's ethical management, through the
prevention of unethical behaviors
(e.g. CEO messages, pledge to ethics practice, education, and PR),
monitoring
(whistleblowing system; periodic inspection), and
follow-up management
(ethical management survey, dissemination of information on cases of unethical acts).
Ethical norms/action guidelines

We set ethical norms/action guidelines designed to foster a transparent and fair corporate culture and view them as criteria for our management acts and judgment of values.
CEO Message & having employees submit ethical management affidavits

Each year, our CEO refreshes his commitment to ethical management. Our employees submit ethics pledge for putting the ethics-related ideas into practice.
Ethical management education

We hold regular educational sessions for inspiring ethics-related consciousness in employees (including part-time and contractors). We also strive to disseminate the culture of fair trade, through relevant education for our business partners.
Ethical management-related PR

We engage in ethical management-related in-house activities, such as reminders about prohibition of acceptance of money/valuables particularly on national holidays, gift-reporting hotline, publication of booklet about FAQs on ethics-related matters.
Ethical Reporting and Counselling system

We operate various channels in order to enable all stakeholders to freely consult and report on ethical management issues, and we strive to prevent repetition of unethical behaviors by dissemination of information of unethical cases.
Ethical management practice surveys

We conduct surveys to measure the level of commitment of our employees to ethical management and improve vulnerable areas.
Code of Ethics for Employees
Statement of the criteria for employees' conduct and value judgment
Client We gain trust from our clients through client satisfaction management and grow together with them.
Shareholders To create shareholder value, we increase corporate value by reinforcing transparency and efficient management.
Employees All SKC employees fulfill their duties dutifully with accountability.
Society We become a trusted firm by observing the social norm and make a contribution to a society through social and cultural activities.
Code of Ethics Guide
Specific regulations for the implementation of the Code of Ethics
Employees' basic duties Observance of basic ethics for employees, prohibition of acts under conflict of interests, ban on bribery and corrupt practices
Protection of company's properties Physical property, intellectual property
Observance of laws Observation of domestic and international laws and regulations (fair trade, accounting management, quality/safety/environment management)
Work handling procedures Organization in charge, protection of whistle blowers, consultation / reporting procedures