● SK Bioland concluded a contract for exclusive domestic sales rights and technology transfer with Kangstem Biotech with the aim of the world's first commercialization
● Going beyond an image of a "cosmetic ingredients company," SK Bioland seeks to heighten its status as a firm specializing in "regenerative biotechnology" such as skin and tissue.
SK Bioland (CEO Lee Geun-sik), an SKC subsidiary, is starting its stem cell treatment business in earnest with an emphasis on stem cell atopic dermatitis treatments. In line with this, the company plans to transform from the current business centering on cosmetic ingredients into a "regenerative biotechnology company" specializing in skin beauty regeneration, physical health regeneration, and tissue regeneration.
On March 25, SK Bioland signed a "contract for setting up the exclusive sales rights and non-exclusive license to umbilical cord blood (UCB) derived stem cell atopy treatment and technology transfer" at the head office of Kangstem Biotech in Gangnam-gu, Seoul. With this, SK Bioland secured domestic exclusive sales rights to Furestem-AD®, a stem cell atopic dermatitis treatment developed by Kangstem Biotech. This will also allow SK Bioland to utilize UCB stem cell-related original technology.
Stem cell treatment Furestem-AD® is a product that fundamentally treats the cause of atopic dermatitis. Once treated, the treatment effect lasts a long time. As it restores the immune system, this treatment is also less likely to create resistance or side effects.
SK Bioland will soon finish clinical trials of Furestem-AD® with Kangstem Biotech with the aim of commercialization next year. Kangstem Biotech is currently conducting a phase 3 study in 11 large medical institutions nationwide. Furestem-AD® is the most advanced treatment for stem cell atopic dermatitis, and if everything goes as planned, it will become the world's first such treatment to be commercialized. Initially, the treatment will be produced by Kangstem Biotech, but after the transfer of technology, SK Bioland will manufacture the products.
SK Bioland plans to grow its stem cell business into a major business. SK Bioland, which has pursued promising technologies after establishing a dedicated organization in 2017, started the business in December 2018 by concluding an agreement with MEDIPOST for the development and exclusive sales rights of a stem cell treatment for ankle arthritis. Acquiring stem cell-related source technology this time has laid the groundwork for SK Bioland to expand its stem cell business. SK Bioland will strengthen cooperation with Kangstem Biotech, develop its own technology, and build mass production facilities to become a global stem cell company.
An SK Bioland official said, "Although SK Bioland has a lot of potential businesses such as dental collagen membranes, many viewed us as a cosmetic ingredients company. SK Bioland aims to transform itself into a regenerative biotechnology company by restructuring businesses into three areas—tissue regeneration focusing on stem cell treatments, bone graft materials, and collagens; skin beauty regeneration focusing on cosmetic ingredients and sheet masks; and physical health regeneration focusing on health functional foods." [End]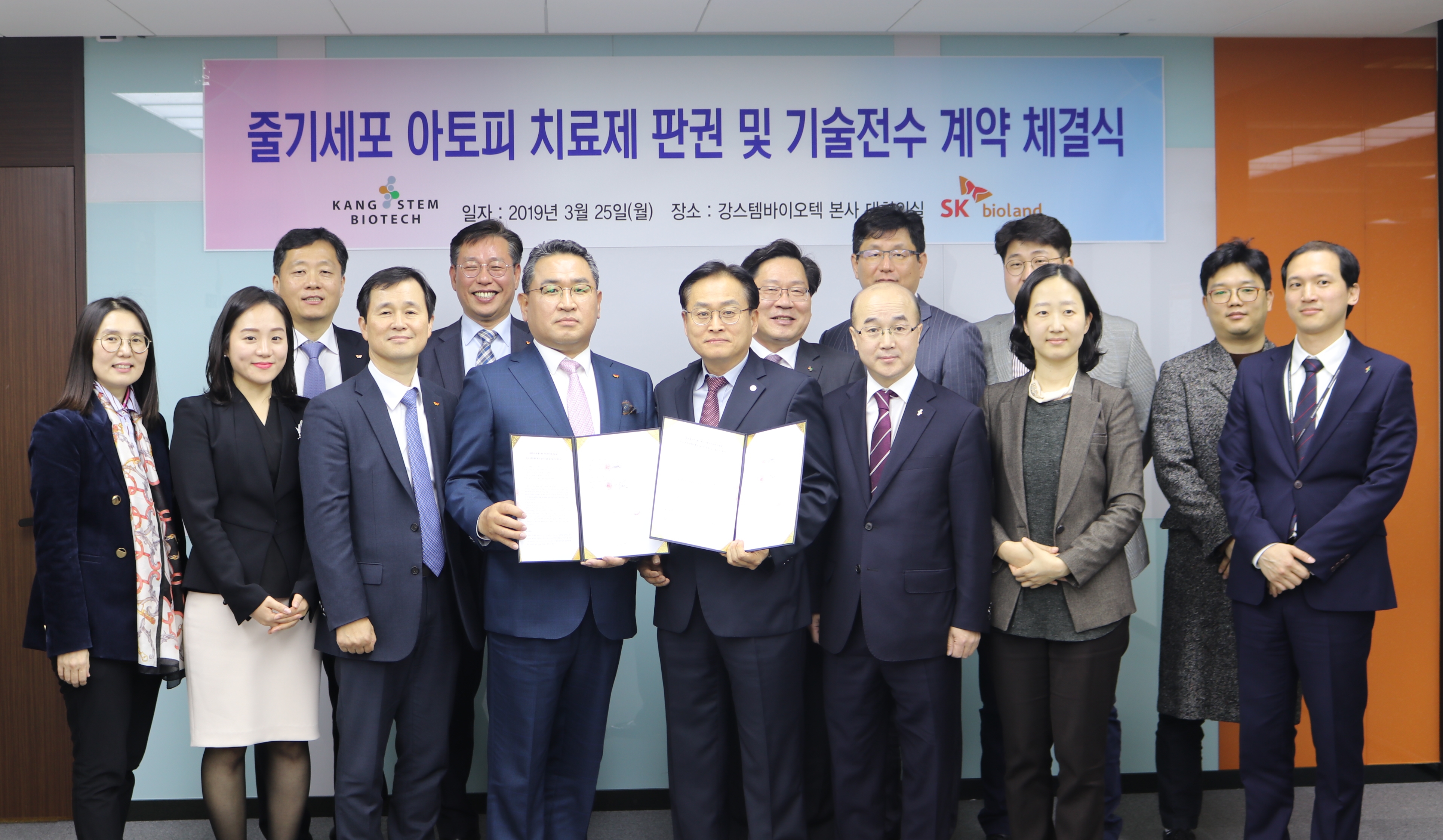 [SK Bioland CEO Lee Geun-sik (sixth from left) and Kangstem Biotech CEO Lee Tae-hwa (seventh from left) are having a photo session after signing a "contract for setting up the exclusive sales rights and non-exclusive license to umbilical cord blood (UCB) derived stem cell atopy treatment and technology transfer" at the head office of Kangstem Biotech in Gangnam-gu, Seoul on March 25.]