Korea's First PO Production

Korea's First PO Production
SKC chemical business began with propylene oxide (PO), which began production in 1991. It is a highly reactive chemical product in liquid form, used in the making of materials (PG, PPG) required in cosmetic products and automobile interiors.
PO production flowchart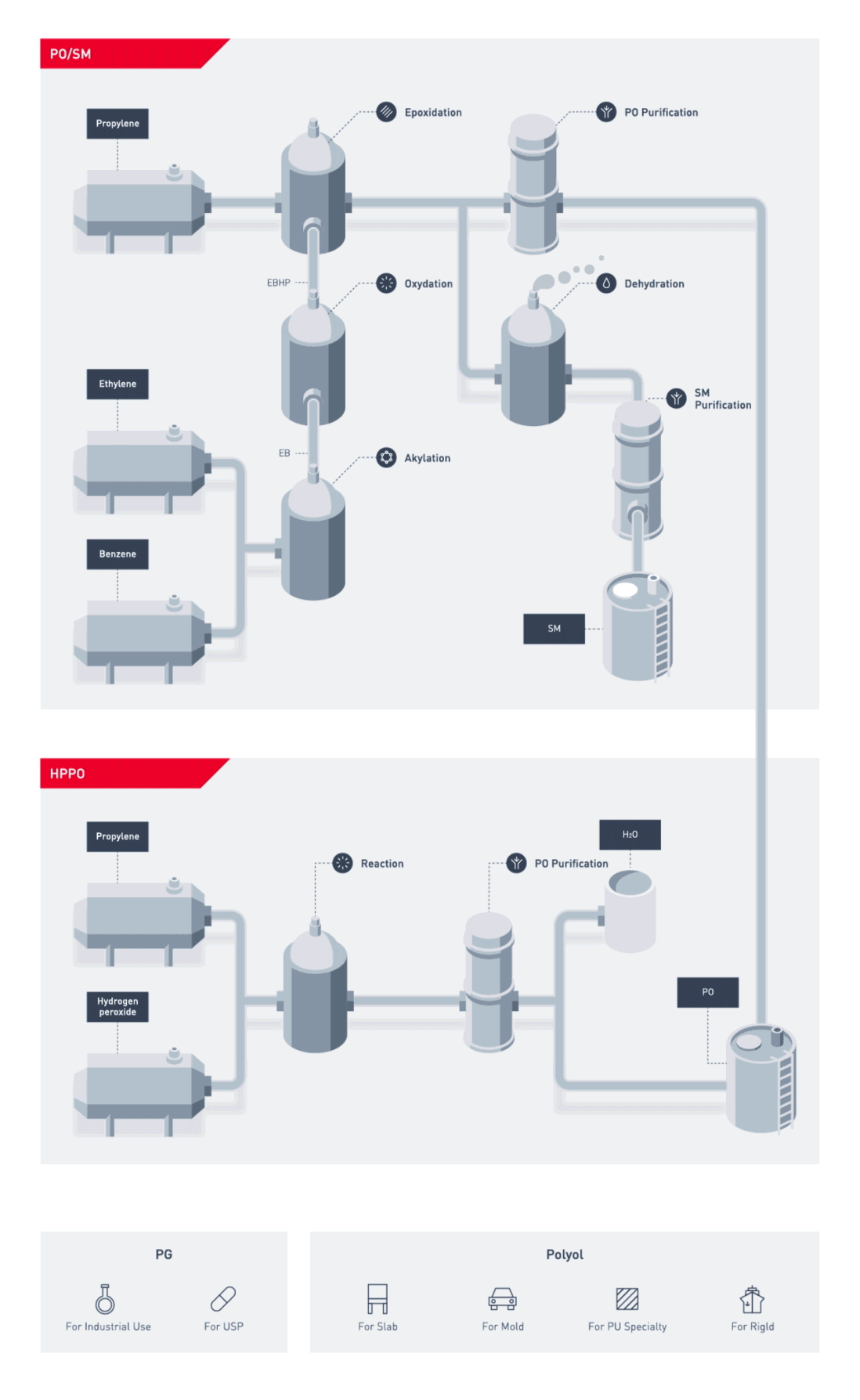 World's First HPPO Method

Capitalizing on its thirty years of technology, SKC is striving to produce PO with a better quality. In particular, We have been thinking about how to make PO in a more eco-friendly way. Our microbe treatment facility established in the mid-2000s has drastically reduced pollutant emission by treating waste liquid from production with bacteria. In 2008, we began using the HPPO method which was the first attempt in the world. No waste water is generated through this method using peroxide. SKC has the capability to produce about 330,000 tons of PO.
Korea's Only PO &
PG Producer

Polypropylene glycol (PPG) from PO is used to make polyurethane for automobile interiors and refrigerator insulation. SKC segmented its polyurethane business division in July 2015 to create a joint venture, MCNS, with Mitsui Chemicals from Japan.
Rising to become a global polyurethane producer within a short span of time, MCNS operates polyurethane plants in eleven locations around the world including US, Mexico, China, Poland, and India. In particular, the Indian plant is a bio polyol factory that produces polyol with plant-based materials such as castor oil.
Capitalizing on its decades of polyurethane production technology, SKC is now looking to expand business into high value-added specialty products such as automobile suspension and railway elastomer polyurethane products.
1st in the World

Commercial Use of Eco-Friendly HPPO Method

1st in Korea

Commercialization of PO/SM Factory
Independent Development of Elastomer-based Jounce Bumper
Development of Elastomer-based Railway Elastic Pad